Bon Jovi is coming to the Fiserv Forum on April 5th, so here is my scary story about the sight of JBJ in 1997.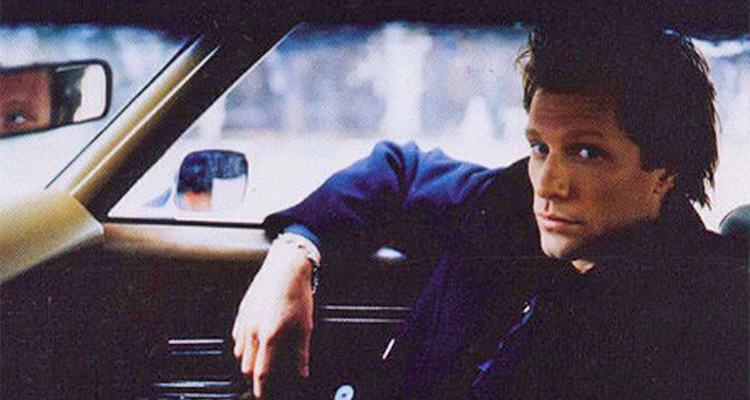 Ais part of the Bon Jovi 2022 Tour, eternal rock band Bon Jovi will play Milwaukee's Fiserv Forum Tuesday April 5. Tickets go on sale to the general public on Friday January 21 at 10 a.m. Find them HERE.
Anyway, here is my (already published) story of seeing Jon Bon Jovi (or JBJ is you're bad) in 1997. It's called "Fear, Jon Bon Jovi, and the worst Q&A ever". Enjoy?
---
Ssome people are afraid of death. Others are afraid to speak in public. Indiana Jones is afraid of snakes. I fear only one thing: questions / answers. As in "those awful question-and-answer sessions that sometimes follow concerts / movies / speeches / etc." As in "the part of the concert / film / speech / etc. where I rush to the door and throw myself into traffic. And I have Jon Bon Jovi to blame.
That was in 1997. I was 19 years old and I lived in the dorms at the University of Wisconsin-Milwaukee. (Sandburg Hall, North Tower, 19th Floor, Single Room.) For reasons that were and will forever be a mystery, I wore a lot of black leather jackets. Lord, I think I even had a black faux baseball cap. I played in a bandaged, nurtured the idea of ​​becoming a filmmaker and was a complete and utter doofus.
One day my longtime and long-suffering girlfriend (hi, Nicki!) Announced that she had tickets to see the one and only Jon Bon Jovi perform an intimate solo acoustic show at the Marcus Performing Arts Center. I think she got the tickets from her dad (hi, Dave!) Who was a full time and part time car salesman Dick contino fan. The show was later that night. Would I like to go? I wasn't a big Bon Jovi fan, but, I don't know, "Bad Medicine" is a bit ripped, so why not? I dusted off my best leather gear and got ready.
https://www.youtube.com/watch?v=eOUTsybozjg
So let's talk about Jon Bon Jovi or, as he's known to me and probably no one else, JBJ. Like I said, I wasn't a big fan of the mid to late '90s, but this man's music was staple from the mid to late' 80s. Turn on MTV and he was there, in the lead of the annual countdown to clips with "Livin 'On A Prayer", "You Give Love A Bad Name" and / or "Wanted Dead Or Alive". Walk into any bar or bowling alley and he was there again, doing powerful ballads like "I'll be there for you". Damn, "Raise Your Hands" was in Space balls for some reason. Did i have Slippery when wet and New Jersey on tape? As someone who's ever received a case of "Paradise City" from Guns N 'Roses for St. Nicholas Day, you bet I did.
Make way for the show. We arrived at the Marcus Center and, along with a few dozen other fans, were ushered into a small room that looked more like a classroom than a concert hall. A few rows of seats opened onto a podium, a screen and a stool. Was it a Disconnected-esque show or conference? Professor Bon Jovi!
Apparently JBJ would give a brief gig, follow it up with a question-and-answer session, and then follow through. this with a movie. You see, the 35-year-old rocker was at a pretty low point in his career – success after the 80s, resurgence before the 2000s – and he was touring behind a since-forgotten solo album called Destination anywhere. (Example words from the "Queen Of New Orleans" opener: "Nothing is what it seems / She was a Venus de Milo in her sister's jeans.") We were informed that the 45 minutes ( !) Destination anywhere the movie was, in fact, amazing, and that it starred JBJ, Demi Moore, Kevin Bacon and Whoopi Goldberg. The mind faltered. Also the whole show was sponsored by WKTI and I'm pretty sure Reitman and Mueller were there.
And suddenly there he was: Jon Bon Jovi! The man who rode a steel horse, the man who was halfway there, the boy who was addicted because your kiss is drugs, whoa-oh-oh. His once absurd mane of '80s hair had been freshly cropped (remember when Metallica cut their hair?), And he was wearing dark sunglasses and a black leather jacket. No feather for this guy! The crowd screamed, JBJ grabbed an acoustic guitar and sat down, and the show began.
I wish I could have given you a minute-by-minute review of the gig – or, at the very least, a lousy setlist – but it all happened pretty quickly. From what I remember it was fine. JBJ mainly played new material from Destination anywhere (another sample lyrics from "Queen Of New Orleans": "Last night I made a move, man, I felt hard / When I put my hands in her cookie jar"), maybe be a few tunes from the Young Guns II soundtrack ("Blaze Of Glory"!), and maybe a slowed down version of "Livin 'On A Prayer" (you know, like the "Prayer '94" version that's on crossroads). It sounded good! He looked great! It was over in about an hour!
Then came the Q&A. Oh my God, the questions and answers.
The first question was from a woman in her thirties who appeared to be a quintessential Bon Jovi fan. Big hair, big nails, big everything. (I say this with the utmost respect – damn it, my mom was / is a quintessential Bon Jovi fan.) "May I have a hug? The woman asked. The crowd screamed. Jon Bon Jovi didn't. In fact, a look crossed his face that said, "Oh no, not yet."
"Alright," he sighed finally. Everyone screamed some more and the lady ran to take a hug, The price is right-style.
Alright, good. Maybe the next question would be about JBJ's artistic process, his thoughts on fame and the recording industry, or Richie Sambora. Dear readers, this was not the case. Instead, the second question, courtesy of another female OG fan, was, "Why did you cut your hair?" "
JBJ's terse response: "Because it's not the 80s anymore." Weft.
To say that things were not going well would be an understatement. To say that things were about to get worse would also be an understatement. The third question, from a male fan who, oh no, please no, had a tape in his hand, was, "Could you listen to my demo?" "
JBJ, who now looks like he wants to die: "Of course."
But the last question took the cake. Earlier, JBJ had played a new song called "August 7 4:15". He had made it clear that the song was about the unsolved murder of his tour director's 6-year-old daughter. Jesus. Sinister, sad and horrible stuff. But that didn't stop a woman from saying these words: "August 7th is my birthday!" Did you know that when you wrote the song? Salvation ! "
"Well," Jon Bon Jovi replied, "I think I've already explained what the song is about." There was a long pause. "But happy birthday."
And with that, if memory serves, JBJ rushed for the door. The mob also tried to leave, but Reitman and Mueller forced us at gunpoint (again, if memory serves) to stay and watch the crappy movie. Since then, I have been terrified of questions and answers. At the Milwaukee Film Festival 2019, for example, during a Q&A with Sheryl Lee and Ray Wise from Twin Peaks: walk with fire with me, I lasted three seconds after a weirdo started on Wise about unions. Trade unions ! Yes, the questions and answers are horrible. Thanks, Jon Bon Jovi.
"Janie, don't take your love to town", from Destination anywhere, is good enough, however.