Cyclopharm achieves record half-year results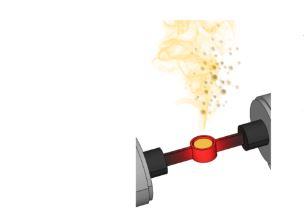 Nuclear diagnostic lung imaging company Cyclopharm reported record half-year revenue of $11.4 million, up 35% from the prior corresponding period.
The company, which sells medical devices and pharmaceuticals as Technegas, saw its Technegas generator sales increase 32% to $1.65 million and patient administration sales increase 18% to 5, $26 million.
The company will pay a dividend of 0.5 cents per share and ended the six months with net cash of $26.5 million.
Technegas is an ultrafine dispersion of carbon labeled with Technetium which, once inhaled by a patient suspected of having a pulmonary embolism, makes it possible to image the lung under a gamma camera.
The company's products are distributed in 60 countries with more than 1,500 nuclear medicine departments using Technegas.
Cyclopharm continues to sponsor clinical trials investigating potential new applications for Technegas, including the diagnosis and monitoring of chronic obstructive pulmonary disease, asthma, and lung disorders related to Long Covid.
Cyclopharm Chief Executive James McBrayer said: "The higher number of generator sales achieved in the first half of 2022 gives us confidence in continued robust revenue growth (for patient applications) as these new sales drive repeat orders (for patient applications) throughout life. of these new assets.
"Furthermore, we expect strong growth in third-party sales to continue to provide an important source of additional revenue for our business."
McBrayer said the company is actively working with the U.S. Food and Drug Administration to resolve outstanding issues necessary for Technegas' approval in the U.S. market.
Photo: Cyclopharm
Subscribe for free to our @AuManufacturing newsletter here.