Forum strengthens cooperation on disaster management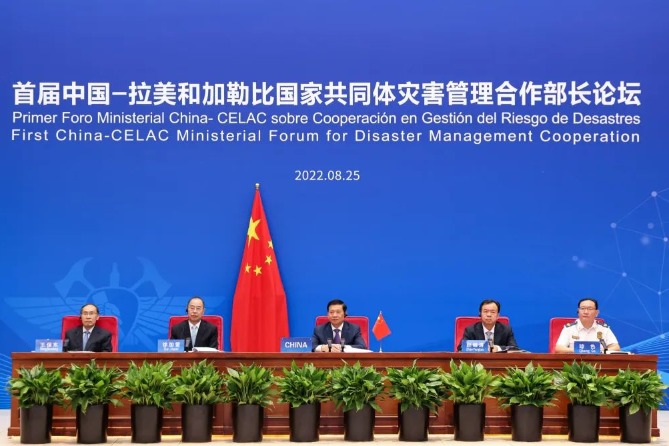 China and the Community of Latin American and Caribbean States pledged to strengthen cooperation in disaster management as catastrophic disasters caused by climate change wreak havoc in many parts of the world, according to a statement. spouse released Thursday.
The statement was released after China and CELAC member states held the first China-CELAC Cooperation Ministerial Forum on Disaster Management via video link.
Both sides noted that deaths, loss of livelihoods and displacements caused by the frequency of severe and catastrophic natural and man-made disasters are exacerbated by climate change and further aggravated by the COVID-19 pandemic, according to the document.
The situation has limited the sustainable development of economies, societies and the environment, with its impact on protecting the rights and interests of groups in vulnerable situations, thus calling for enhanced cooperation between China and CELAC in disaster management to improve the disaster management capacity of all countries and better address disaster risk, he said.
China and CELAC member states have agreed to strengthen cooperation in various sectors of disaster management.
For example, they will strengthen cooperation in disaster risk monitoring and assessment, including exchanging experiences in multi-hazard monitoring and early warning system, early risk identification, notification and management, according to the statement.
He said they will also set up a mechanism for sharing risk monitoring and early warning data, risk assessment and disaster impact information.
Disaster prevention and adaptation to climate change are also among the priorities of their cooperation, he added. They plan to establish a China-CELAC research network on disaster risk reduction to share experiences in policies, regulations and standards, conduct joint research on the resilience of key infrastructure and develop technologies and equipment for emergency communications and disaster risk reduction.
The two sides also reached consensus to step up cooperation on disaster preparedness and response.
Among the main concerns of such cooperation is building cross-border rescue capabilities, such as joint exercises, simulations and competitions for rescue teams, according to the statement. The two sides also agreed to send rescue teams and relief supplies to each other if needed.
Aiming to enhance cooperation between the two sides and jointly address issues of common concern, they officially launched the China-CELAC Cooperation Forum for Disaster Management on Thursday.
Based on a people-centered development philosophy, the forum is expected to further deepen coordination and cooperation between China and CELAC with relevant international, regional and sub-regional organizations and United Nations agencies by upholding the principle of multilateralism. through consultation and cooperation for shared benefits, and support South-South and trilateral cooperation.