Thales and Ocius develop unmanned anti-submarine capability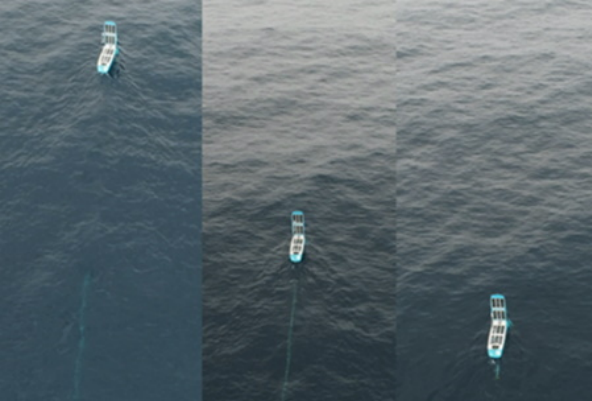 Thales Australia and Ocius Technologies have entered into a partnership agreement to develop and deploy an unmanned surface vehicle (USV) capability equipped for anti-submarine warfare (ASW) and surveillance missions.
The autonomous Blue Sentry system, designed and manufactured in Australia, is made up of a team of Ocius Bluebottle USVs integrated with new thin-line fiber optic towed array sonars from Thales.
In operation, the concept is for unmanned vessels to be deployed from shore to autonomously patrol large areas of coastline during extended missions, performing underwater intelligence, surveillance, reconnaissance (ISR) tasks at sea and in extreme weather conditions.
Missions that previously would have required the deployment of populated assets for several days will be able to be conducted remotely using the Blue Sentry team of autonomous ships at a significantly reduced cover cost.
Ocius Technology CER Robert Dane said: "If you can imagine a map of Australia with Blue Sentry Bluebottles scattered around the Exclusive Economic Zone where illegal vessels know if they enter our waters they will get bitten.
"It's not just Australian sovereign capacity, it's the best. It's the quietest, best performing persistent USV platform, paired with the best array. »
Benefiting from Thales's 35-year investment in towed array innovation in Australia, the Royal Australian Navy and DST Group, traditional towed array capability has been deployed for the first time on the class submarine. Collins for threat detection.
The Thales Souverain Thin Line towed fiber optic network is a miniaturized version of an underwater towed fiber optic network, allowing the autonomous detection of surface or underwater devices that generate acoustic noise.
The Blue Sentry system's autonomous sensing capabilities also enable covert communication with allies below the surface using long-range, low-frequency underwater communications.
The newly developed thin line Towed Array has been designed, developed and manufactured at Thales Australia's Center of Acoustics Excellence at Rydalmere in New South Wales.
Thales has been working with Ocius since 2013 on the role of USV in ASW.
Thales Australia and New Zealand CER Chris Jenkins said: "Detecting and classifying modern underwater threats at tactically useful ranges requires a highly optimized balance between sensor and platform to ensure success in the harshest acoustic environments. more difficult.
"Teams of specialists from Ocius and Thales Australia have worked to bring their respective capabilities together in the Australian designed and manufactured Blue Sentry."
Photo: Thales Australia
Subscribe for free to our @AuManufacturing newsletter here.